ZAMBOANGA CONSORTIUM FOR HEALTH RESEARCH AND DEVELOPMENT
ORGANIZATIONAL STRUCTURE
(Updated January 2017)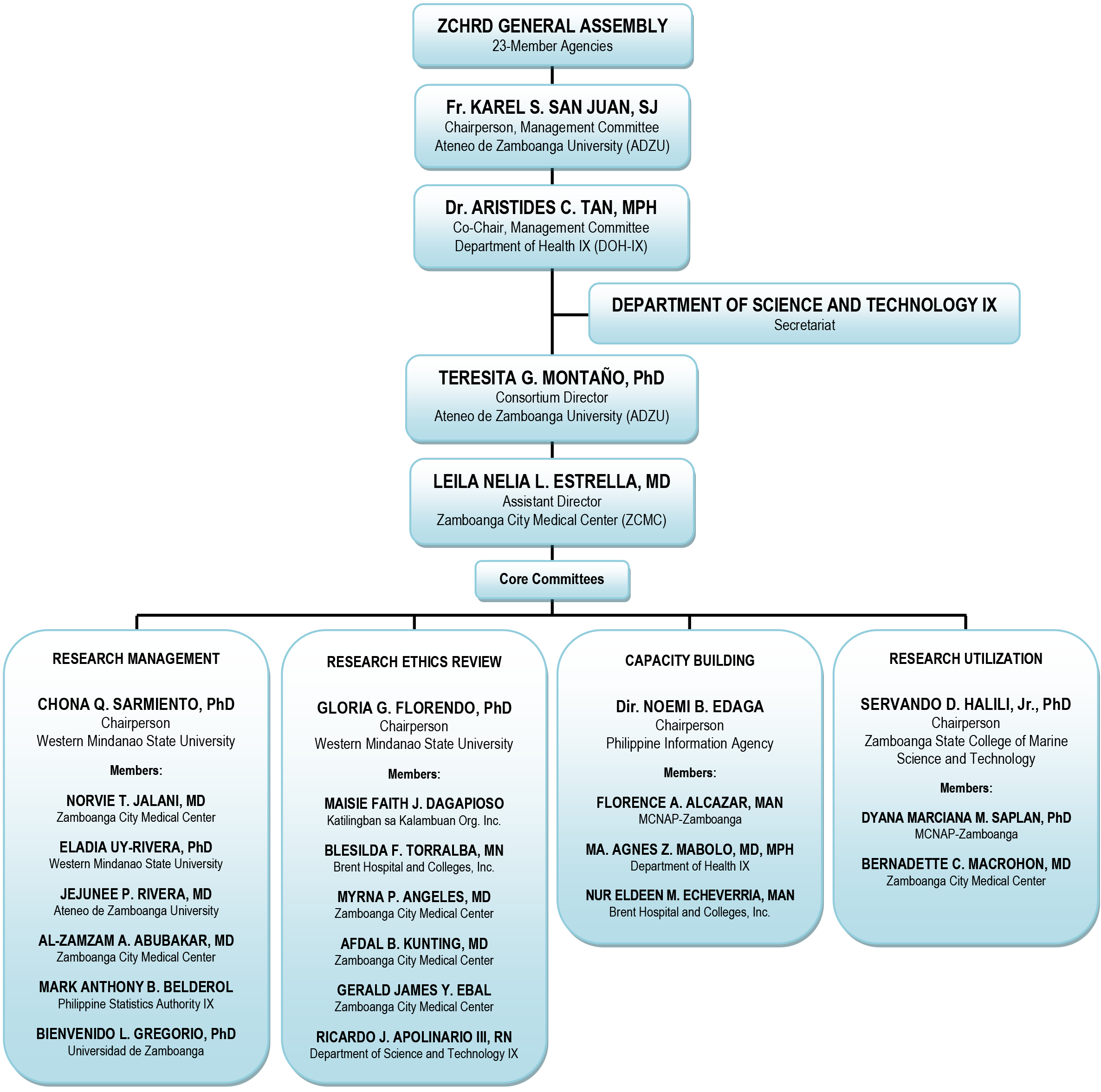 (Updated 21 February 2017) The Zamboanga Consortium for Health Research and Development (ZCHRD) is an organization created to optimize the use of research to help alleviate the health and nutrition problems of the people in Region IX;
Specifically, ZCHRD aims to:
establish a system for effective sharing and utilization of physical, financial, and human resources among member institutions;
promote effective coordination among member-institutions in the conduct of researches in health and nutrition and the allied sciences;
encourage, generate and provide funds for health-related researches in accordance with the health and nutrition priority areas indicated in the Regional Development Council plan;
develop and strengthen human resources for health research;
promote the effective dissemination and proper utilization of health research findings;
develop effective and harmonious working relationship between and among health workers and research institutions withing Region IX;
establish linkages among researches and research institutions outside Region IX;
serve as clearinghouse for any or all health-related researches conducted in Region IX; and
develop mechanisms and implement strategies to ensure the long-term viability of the consortium. 
To date, 23 diverse institutions specialized in various research areas converged to strengthen the Health Research Consortium. It ranged from the academic, government, and private sectors as follows:
Jose Rizal Memorial State University
Mindanao State University
Zamboanga State College of Marine Science and Technology
Commission on Higher Education IX
Department of Health IX
Department of Social Welfare and Development IX
National Commission on Indigenous Peoples
National Economic and Development Authority IX
National Nutrition Council IX
Office of the Civil Defense IX
Philippine Information Agency IX
Philippine Statistics Authority IX
Zamboanga City Medical Center
Zamboanga City health Office
Katilingban para sa Kalambuan Org., Inc.
Mother and Child Nurses Association of the Philippines, Inc.